Worry Free Seasonal Cleanings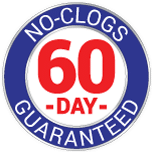 Yearly Recurring Services with My Gutter Pro
We now offer automatic yearly cleanings that repeat whenever you need them to.
It's simple!  Just set the dates you would like your gutter cleaning services to repeat and that's it.  We'll do the rest! 
Our system will automatically schedule the services for you every year. As usual, we still guarantee no clogs for 60 days.  It really is "Worry Free!"
You will still receive the normal 3 day Service Reminders, as well as the day of notification.  If you aren't familiar with how our system works.  Our system automatically sends out notification emails and text messages to remind you 3 days before every service, as well as a day of reminder with an estimated time of arrival.  Our customers don't have to do anything but pick when they want their gutters cleaned, and that's it!
As always, payments aren't due until the service is completed.  You'll get the invoice to your email soon after the job is completed.  Be sure to take a look at the complimentary photos we provide of all finished work.  To see the photos you'll have to scroll past the invoice.
Keep your gutters free and clear all year long with one of our worry-free seasonal cleaning plans.
There's no contracts (you can quit or cancel anytime) and no down payments are required to hold your service.
In addition to that, we offer discounts for the amount of cleanings you require. The more cleanings per year, the bigger the discount!
1-2 cleanings per year – take 10% off each cleaning

3 cleanings per year – take 15% off each cleaning

4 cleanings per year – take 20% off each cleaning
The amount of cleanings you need per year depends on the tree coverage in your area.   Homes with little-to-no tree coverage should be able to get by with only one gutter cleaning per year.  We always recommend at least one gutter cleaning a year, especially at the end of Fall.  Because, if you have any clogs in your downspouts and it snows, the water can't drain and it could lead to a bunch of different but expensive repairs.
Cancel or Re-schedule Worry Free
Your Annual Cleanings will repeat every year until you decide to cancel. No questions asked is our policy when it comes to cancelling a service. Moreover, we've made it really easy for you.  To cancel any service you can could the office, send an email, even reply to our Service Reminder messages. Whatever way is easiest for you, and remember, no questions asked.  We take pride in being a Hassle-Free company.
If your gutters don't need cleaned at the time of the service, you can easily re-schedule it for a later date.
For instance, say it's mid-November and your trees still have half their leaves on them.  No problem! We can easily push it back until your trees have dropped all their leaves.  Just let us know when you receive the 3 day reminder that your gutters aren't ready to be cleaned.
Please let us know at least 2 days prior to any service that needs cancelled or re-scheduled.
Worry Free General Roof Inspection
Another thing that sets us apart from all the rest, is that we do a General Roof Inspection with every gutter cleaning.  While we are up on your roof performing the gutter cleaning, we are always on the look out for any other types of damages.  We'll let you know if we spot any repairs such as: missing or damaged shingles, chimney flashing, pipe collars, wood rot, water damage, drip edge issues, etc...
So if you're a person who doesn't like to climb a ladder onto your roof, than getting a yearly gutter cleaning service is a GREAT idea for you.  That way you will have somebody examine your roof for any damages at least once a year.
How to get set up for our Worry Free Seasonal Cleanings
Use any "Schedule a Gutter Cleaning" link from this page, or any page from our website

Fill out the "Schedule a Gutter Cleaning" form

At the bottom, there is a button marked "Recurring Services" click that then select the dates you would like your Recurring Services to repeat on, or you can just write them out in the notes

That's it, we'll do the rest.  It really is that simple!

You will receive an email that notifies you once your service has been scheduled

Our automatic messages will let you know when we are on the way to complete every job, and also once we finish.  You don't even have to be present for the service to be completed

You will receive the invoice to your email soon after the job is completed, along with all job related photos
Have any questions or need help with setting up Recurring Services? No problem! Click here to send us an email.
My Gutter Pro
93 Monocracy Blvd. Unit A-6
Frederick, MD 21701
301-898-2880
Does your home have gutters?
If you answered yes, then you should be following us on Facebook to receive seasonal reminders, DIY tips, promo offers, FAQ's, contests and giveaways, and much much more!! Don't delay, join the My Gutter Pro Team today!