Gutter Installation
Gutter Installation includes the installation of any component of the gutter system.  Such as:
Gutters

Downspouts

Miters

Splash Guards

Downspout Extensions

Fascia Board/Rake Board/Soffit

Drip Edge

Gutter Covers
We take pride in only using the top quality products available for all our Gutter Installations.  From the .032 gauge Seamless Aluminum gutters, to the heavy duty hardware, we know what products will stand the test of time.  That's why we back up all of our gutter installations with a 2-Year Service Warranty.  We use the thickest gauge aluminum available that you can run through a gutter machine.
Not only do we install gutters, but we install every thing that has to do with gutters. Such as downspouts, splash guards, miters, drip-edge, downspout extensions, gutter covers, fascia board, etc…
K-Style Seamless Aluminum Gutters
The most commonly used style of gutter is the K-style gutter.   Designed to complement the exterior of modern homes by resembling crown molding.   K-style performs better than Half-Round in many ways.  Such as being more strong and durable, but also they can hold/handle more water than the round style.  Being stronger and more efficient makes them the industry standard.
WE ONLY RECOMMEND K-STYLE GUTTERS   
K-Style gutters are available in 5 inch or 6 inch sizes.  See our color chart below for Aluminum Gutter color options.
Aluminum Gutter Color Chart
Below all are the available colors of Aluminum Gutter that we have available to us.  Prices are the same for all colors, and you can change your color up to a week before the installation.
More About Seamless Gutters
Seamless Gutters means your entire length of gutter is one section of  gutter.  When you have 2 or more sections of gutter joined together, you get seams.  The more seams you have, the higher probability of leaks you have.   Also, seams are a weak point in the winter if you have any snow and ice.
Using seamless gutters will ensure that the pitch stays correct throughout the entire length of gutter.  We only recommend and install seamless gutters for all gutter installation projects.
Materials
K-Style and Half-Round gutters come in a variety of materials such as Aluminum, Copper, Vinyl, and even Plastic.  There's even thin gauged aluminum (.027) but we would never suggest using that.  It's simply not durable. You can even purchase Vinyl and Plastic gutters at your local home improvement store as well.  We would never suggest using those faulty products though. We only use Heavy Duty .032 gauge Seamless Aluminum Gutters, and 16 oz. Seamless Copper Gutters.
Seamless Gutter Installation
2-Year Labor & Workmanship Guarantee
.032 gauge Seamless Aluminum
16 oz. Seamless Copper
Heavy Duty Hardware
Selection of Styles & Sizes
Variety of Colors
Downspout Installation
The two most common sizes of downspouts are 2×3″ and 3×4″.  2×3″ are usually paired with 5″ gutters, and 3×4″ paired with 6″ gutters.
We can replace your existing downspouts with larger sized downspouts.  When it comes to clogs in your downspouts, the obstructions always occur in the elbows.  Therefore, having a wider elbow makes it less likely for debris to become stuck inside.
Adding additional downspouts to your existing gutters is also an option.  Let's say you have a really long run of gutter that doesn't seem to handle all the water.  Well most of the time you are able to add an additional downspout to relieve the pressure and spread the water to two drain points.  You may need to re-pitch the gutter to make sure the water drains towards the new downspout, but that is easy.
Downspout Extensions to Connect Gutters
Extend your Upper-Level downspout into your Lower-Level gutters so that the water does not splash over the gutter.
Whenever you have this happening on your home, we always suggest extending your downspout into the lower gutter system.
Read more about connecting your gutters with downspout extensions here: https://mygutterpro.com/downspout-extensions-connect-gutters/
Downspout Extensions to Re-Direct Water
  Basement leaks are sometimes the result of the downspout being too close to the home, or poor drainage on that side of the home.  If your downspouts empty out too close to the home and are causing problems, we suggest adding downspout extensions to the ends of your downspouts to re-direct that water away from your home.
Click the link to read more about downspout extensions:  https://mygutterpro.com/downspout-extensions/
Gutter Cover and Gutter Guard Installation
My Gutter Pro recommends and installs Perforated Aluminum Gutter Covers. For more information CLICK HERE to visit our Gutter Cover page.
Splash Guard Installation
Splash Guards can be installed to problem areas where water seems to shoot right over the gutters.  This often times happens with steep roofs, metal roofs, and cedar roofs.  Other problem areas where this often happens is under roofing valleys or seams, or other high traffic areas where multiple sections of roof meet.
Fascia Board or Rake Board Installation
The white board that your gutters are mounted to is called "Fascia Board".  This wood needs to be replaced every 10-20 years depending on how well your gutters are maintained and how much water gets behind the gutters.  There is no repair for damaged or rotted fascia board.  If it is damaged, it needs to be replaced.
Aluminum Fascia Wrap or Rake Wrap
Wrap your existing fascia board with aluminum to prevent water from rotting the wood.  We can wrap your existing fascia board, or install brand new aluminum wrapped fascia board.
Drip Edge Installation
One of the most important components of your roofing and gutter systems is the drip edge.  It is tucked under the shingles on the edge of your roof and covers the gap between the roofing deck and the gutter.  Without drip edge, water will destroy your fascia board and home.
CLICK HERE for more information on Drip Edge.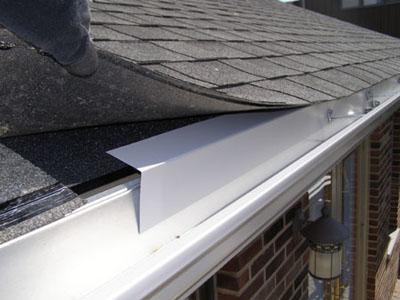 Gutter Parts and Accessories Guide
Having trouble identifying what something is called or what it is used for?  CLICK HERE to visit our Gutter Accessories and Terminology Glossary.
CLICK HERE to find out about all the different gutter materials, and the Pro's and Con's of each material.
Half-Round Gutters
Half-Round gutters offer a more historical and elegant look than the standard K-style gutters.  They are basically "half a circle."  People with older homes often choose Half-Round Copper gutters. In addition to their historical look, the Copper will patina and change color over time. For a more rustic look.   Besides their appearance, half-rounds have a few other things going for them.  They have a smoother shape allowing the water to flow more freely. This slows down corrosion because there is no where for the water to stand still. They are also easier to clean because of the shape, and less likely to clog.
Half-Round gutters take more time to install, and require more expensive hardware.  This makes Half-Round gutters more expensive than K-Style.
My Gutter Pro does not recommend Half-Round gutters as they are less efficient, cost more, and water can go behind them easier.
Half-Round Aluminum 5 or 6 Inch Gutter
Half-Round Copper 5 or 6 Inch Gutter
Does your home have gutters?
If you answered yes, then you should be following us on Facebook to receive seasonal reminders, DIY tips, promo offers, FAQ's, contests and giveaways, and much much more!! Don't delay, join the My Gutter Pro Team today!