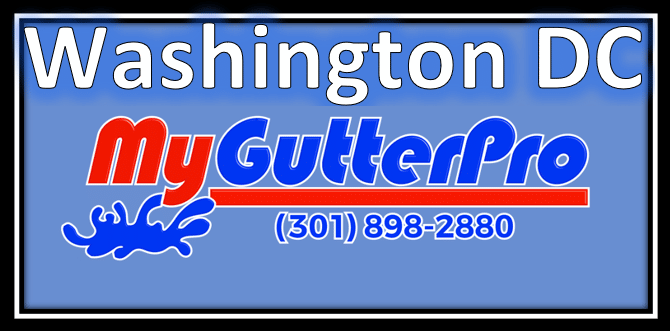 GUTTER INSTALLATION IN WASHINGTON DC
Whether you just need minor gutter repairs, or a whole new gutter system installed, My Gutter Pro has you covered. We've performed 1000's of Gutter Installations in Washington DC. We only use the best quality heavy duty products available to make sure that your project stands the test of time. In fact, we guarantee all our Gutter Installations and Gutter Repairs for 2 years. Get a FREE ESTIMATE for your Gutter Repairs in Washington DC or Gutter Installation in Washington, DC now!!!
GET A FREE ESTIMATE NOW
STYLES OF GUTTER WE INSTALL
There are two main styles of gutters that we install, K-Style and Half-Round Style gutters. Both are available in 5″ or 6″ sizes.
The K-Style is the most popular style because they complement the look of modern homes. Being rigid makes these more durable than Half-Round, and their shape allows them to handle more water than Half-Round as well. Moreover, being stronger and more efficient makes these the industry standard for all Gutter Installation projects.
The Half-Round gutters offer a more elegant and historical look than the K-Style. They are basically shaped like a half circle. You will find this style on older homes and mostly fabricated from Copper or Galvanized Steel. This style of gutter is the easiest to clean, so if you plan on cleaning your own gutters, this may be the route for you.
For more information on the difference between K-Style gutters and Half-Round gutters, please visit our Gutter Glossary that explains every component of the Gutter System.
K-Style Gutter
Half-Round Gutter
GUTTER ACCESSORIES AND TERMINOLOGY GUIDE
GUTTER MATERIALS WE INSTALL
K-Style and Half-Round gutters come in a variety of materials such as Aluminum, Copper, Vinyl, and even Plastic. There's even thin gauged aluminum (.027) but we would never suggest using that. It's simply not durable. You can even purchase Vinyl and Plastic gutters at your local home improvement store as well. However, we would never suggest using those types of products.
We only use Heavy Duty .032 gauge Seamless Aluminum Gutters, and 16 oz. Seamless Copper Gutters. We've done enough Gutter Installations in Washington DC and surrounding areas to know what will last and what won't.
It should be noted that every style and color combination of Gutter is also available for Downspouts, so you will always be able to match your entire homes gutter system.
Aluminum K-Style Gutter
Copper Half-Round Gutter
Downspout Materials
Galvanized Steel Half-Round Gutter
Vinyl K-Style Gutter
SEAMLESS GUTTER INSTALLATION
We only use Seamless Gutters for our Gutter Installation projects. When the entire section of gutter is one piece, with no seams, then it is known as a Seamless Gutter. Often times, we measure the home then roll the gutter out from our own gutter machine, on the spot. This ensures that you have a custom "made to fit" gutter built exactly to the size of your home. Every where there is a seam in your gutter system, water will eventually escape by leaking. That's why it is important to go with Seamless Gutters. Here's some of the other features that come with Seamless Gutter Installation in Washington DC, Bethesda, and Silver Spring MD.
2-Year Labor & Workmanship Guarantee
.032 gauge Seamless Aluminum
Selection of Styles & Sizes
LEARN MORE ABOUT GUTTER INSTALLATION
GET A FREE ESTIMATE
ALUMINUM GUTTER COLOR CHART
See chart below for our Seamless Aluminum Gutter color options. These colors are available for ALL aluminum gutters and downspouts, no matter what style.
Gutter Repair in Washington DC
One of our many specialties, is Gutter Repair. Here at My Gutter Pro, we will find the most affordable solution for all your gutter issues. Sometimes you may just need some minor gutter repairs. However, that is not always the case. There are a few different types of gutter repairs and sometimes we can identify the issue just by knowing the symptoms. Click here to learn more about Gutter Repairs.
LEARN MORE ABOUT GUTTER REPAIRS
Gutter Guards & Gutter Covers in Washington DC
Gutter Guards & Gutter Covers go by many other names, but they basically all mean the same thing. Some of there other common names are Leaf Guards, Leaf Filters, Gutter Helmets, and Gutter Screens. The experts at My Gutter Pro can help you figure out which style will be best for your project. We've installed Gutter Guards & Gutter Covers for thousands of homes in the Maryland and D.C. area. Please consider My Gutter Pro for Installing Gutter Guards in Washington DC or Installing Gutter Covers in Washington DC.
As always, we provide Free Estimates for all our services, including Gutter Guards & Gutter Covers. Just click any link to our Free Estimate form and fill in your information. Or if you have any specific questions, you can reach us by phone or by email.
LEARN MORE ABOUT GUTTER GUARDS & GUTTER COVERS
Additional Services for Washington DC
We can provide ANY type of gutter service that you require. Gutter Cleaning, Gutter Repairs, Gutter Installation, etc.. In addition to that, we also can do minor repairs to your homes siding or roof. If you don't see the service you need listed, feel free to contact us through email or mention it on the Free Estimate form.
Gutter Cleaning

Gutter Repairs

Downspout Repair/Installation or Downspout Extension

Gutter Installation

Gutter Cover Installation

Wood Repairs (fascia board, rake board, aluminum fascia wrap/rake wrap, soffit, siding)

Shingle Replacement (minor replacement)

Power Washing (spring/summer ONLY)

Chimney Cap/Heat Stack Cap Installation

Chimney Collar/Pipe Collar

Drip Edge Installation

Switch out light bulbs

Skylight or Solar Panel Cleaning
LEARN MORE ABOUT GUTTER CLEANING
GET A FREE ESTIMATE NOW
HOW IT WORKS:
The step by step process for booking Gutter Installations in Washington DC
We take pride in making the experience as easy and smooth as possible for our customers. From the time you inquire about a job, up until the job is complete, you won't have to worry about hassles like confirmation calls, up selling, or even meeting in person.
GET A FREE ESTIMATE
It all starts with getting an estimate for your Gutter Installation or Gutter Repairs. Click any link to our Get An Estimate page. Next, you'll need to fill out the Estimate Request form. Be sure to include as many details as possible, as well as the correct property address for the services you require. Gutter Repairs and Gutter Installations can both use the same Estimate form. As always, our Estimates are free!
ESTIMATE WILL ARRIVE VIA EMAIL
Once completed, your Free Estimate will arrive to the email address that you submitted. Be sure to check it over and make sure the details are correct. To approve the Estimate, all you have to do is click "Approve" and we'll do the rest. If you do not approve, click "Decline" or simply disregard the Estimate. For any questions regarding your estimate, feel free to call the office, or contact us by email.
SCHEDULING YOUR SERVICE
Once you approve the Estimate, we will set you up for the next available service date for your area. We generally come to each of our areas once a week. In most cases, you should expect to be scheduled within a week to 10 days. However, during the busy seasons like spring and fall, you could be scheduled as far as 2 weeks away. For larger projects, we may require more time to gather all the materials.
SERVICE CONFIRMATION
Once you receive your confirmation email you are all set. No further action is required. You will receive a Service Reminder 3 days prior to your scheduled job. In addition to that, you will also receive a reminder the morning of your service. You don't have to reply to any of these notifications unless you need to cancel or re-schedule.
DAY OF SERVICE
The day of the service, you will receive an "OTW" notification that let's you know when the crew is en route to your property. This serves as a heads up, just in case you wanted to be home for the service to point out problem areas.
Once we arrive to the property, one of the crew members will knock on the door to let you know that we will be on the property and setting up ladders. If you are not home or not able to answer the door, no problem, we will still be able to complete the job.
Your presence is never required for any of our services to be completed. We use the automated notifications just for that reason. That way if your not able to make it, you'll still know exactly when we arrived at your home and when we left. No need to worry about scheduling off work.
Lastly, once the job is completed you will receive the invoice along with all the job related photos to your email. Check by mail is the preferred method of payment. However, the invoice will have a link to pay online as well.
My Gutter Pro
93 Monocacy Blvd. Unit A-6
Frederick, MD 21701
301-898-2880
Does your home have gutters???
If you answered yes, then you may want to start following My Gutter Pro on Facebook to receive seasonal reminders, DIY tips, promo offers, FAQ's, contests and giveaways, and much more!! Don't delay, join the My Gutter Pro Team today!!!
FOLLOW MY GUTTER PRO ON FACEBOOK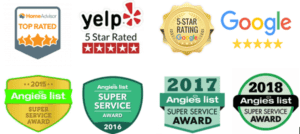 LOCAL RESOURCE LINK GUIDE FOR WASHINGTON DC
https://en.wikipedia.org/wiki/Washington,_D.C.
https://www.britannica.com/place/Washington-DC
https://www.visittheusa.com/destination/washington-dc
http://www.seamlessguttersupply.com/
http://guttersupplycompany.com/
https://www.guttermaterials.com/
https://www.abcsupply.com/products/rain-gutters-guards-downspouts/
https://www.jaykayguttersupply.com/
https://www.americangutters.com/