Gutter Cleaning in Laurel, MD
Cleaning your gutters can be a dangerous and time consuming task. Climbing ladders to get onto a roof is extremely dangerous, especially if you don't know what you are doing. Luckily for Laurel, MD and surrounding areas, My Gutter Pro has you covered.
You'd have to drag out your ladder, find your gutter cleaning tools, clean out all the debris, run water to make sure they're flowing properly… Not exactly how you wanted to spend your weekend! Consider hiring My Gutter Pro for Gutter Cleaning in Laurel, MD.
Gutter Cleaning Prices
We aim to keep our prices competitive with the market, always offering superior service and premium quality work you won't find anywhere else.
We price our Gutter Cleaning services by the size of your home. For homes over 5,000 sq. ft, please use our Free Estimate form.
$85 for a 2-story townhouse

$105 for a 3-story townhouse

$145 for a single-family home up to 2,000 sq. ft.

$165 for a single-family home up to 3,000 sq. ft.

$225 for a single-family home up to 4,000 sq. ft.

$285 for a single-family home up to 5,000 sq. ft.
What to expect from My Gutter Pro
We consistently deliver premium gutter services. So, you can expect to be satisfied every time. We guarantee all of our work!
At My Gutter Pro, we provide free estimates to all customers. Once we send you the estimate, it is complete. For instance, it won't change before your project begins and you won't be charged any hidden fees.
We throw in extras such as damage inspection, photographs, and clearing of debris from roof valleys at no charge to you.
You'll be given a specific service date and arrival time, so you know when to expect our crew. We send texts and emails to remind you:
3 days before your service date
When the crew is en route to your property
When your project begins
After we've finished your project
General Roof Inspection
While our team is up on your roof, we look around for any possible signs of damage to your roofing or gutter system. If necessary, we take photos of any problem areas and will note them on the Work Order we leave. Contact the office if you would like an Estimate for any repairs mentioned or noted.
How It Works:  The step by step process of booking a Gutter Cleaning in Laurel, MD
We take pride in making the experience as easy and smooth as possible for our customers. From the time you inquire about a job, up until the job is complete, you won't have to worry about hassles like confirmation calls, up selling, or even meeting in person.  Here is the break down of how easy it is to schedule a gutter cleaning in Laurel, Md.
Scheduling your service
It all starts with scheduling your job. Whether you schedule a cleaning online or call the office, we will set you up for the next available service date for your area. We generally come to each of our areas once a week. In most cases, you should expect to be scheduled within a week to 10 days. However, during the busy seasons like spring and fall, you could be scheduled as far as 2 weeks away.
Service Confirmation
Once you receive your confirmation email you are all set. No further action is required. You will receive a Service Reminder 3 days prior to your scheduled job. In addition to that, you will also receive a reminder the morning of your service. You don't have to reply to any of these notifications unless you need to cancel or re-schedule.
Day of Service
The day of the service, you will receive an "OTW" notification that let's you know when the crew is en route to your property. This serves as a heads up, just in case you wanted to be home for the service to point out problem areas.
Once we arrive to the property, one of the crew members will knock on the door to let you know that we will be climbing on your roof. If you are not home or not able to answer the door, no problem, we will still be able to complete the job.
Your presence is never required for any of our services to be completed. We use the automated notifications just for that reason. That way if your not able to make it, you'll still know exactly when we arrived at your home and when we left.
Lastly, once the job is completed you will receive the invoice along with all the job related photos to your email. Check by mail is the preferred method of payment. However, the invoice will have a link to pay online as well.
What does a Full Gutter Cleaning service include?
100% satisfaction – Guaranteed!
60-day No-Clog Guarantee
Specific service date & arrival time frame
A set price that won't be increased by hidden fees
Debris cleaned from all gutter and downspouts on your home
Debris cleaned from all roofing valleys on your home
Hand-bagging of all debris & removing the bags from your property
Making sure all gutters are tight by tapping in any loose gutter spikes
A dedicated service technician paid by the hour for thorough service
General roof inspection, including pictures if necessary
Complementary pictures of all work performed
Work Order describing the completed service, along with any damages we may have found noted
Our Gutter Cleaning services NEVER include
Hidden fees or charges (The price we quote you is the set price)
Sub-contractors performing your work (We only use our own hourly employees)
Added interest for late payments (no late fees, after 30 days you'll start receiving invoice reminders)
Hassles or Bad Attitudes
Worry Free Seasonal Cleanings
We now offer automatic yearly cleanings that repeat whenever you need them too. It's simple, just set the dates you would like your gutter cleaning services to repeat and that's it. Our system will automatically schedule the services for you every year. As usual we still guarantee no clogs for 60 days.
You will still receive the normal 3 day Service Reminder, as well as the day of notification. Payments aren't due until each service is completed.
Keep your gutters free and clear all year long with one of our worry-free seasonal cleaning plans. There's no contract and no down payments are required to hold your service. In addition to that, we offer discounts for the amount of cleanings you require. The more cleanings, the bigger the discount.
1-2 cleanings per year – take 10% off each cleaning
3 cleanings per year – take 15% off each cleaning
4 cleanings per year – take 20% off each cleaning
Cancel or Re-schedule Worry Free
Your Annual Cleanings will repeat every year until you decide to cancel. No questions asked is our policy when it comes to cancelling any service. Moreover, you can call, email, even reply to our Service Reminder messages. Whatever way is easiest for you.
If your gutters don't need cleaned at the time of the service, you can easily re-schedule it for a later date. Please let us know at least 2 days prior to any service that needs cancelled or re-scheduled.

Learn more about Seasonal Cleanings/Recurring Services

Additional Services for Laurel, MD
We can provide any type of gutter service that you require. In addition to that, we also can do minor repairs to your homes siding or roof. If you don't see the service you need listed, feel free to contact us through email or mention it on the Free Estimate form.
Gutter Cleaning

Gutter Repairs

Downspout Repair/Installation or Downspout Extension

Gutter Installation

Gutter Cover Installation

Wood Repairs (fascia board, rake board, aluminum fascia wrap/rake wrap, soffit, siding)

Shingle Replacement (minor replacement)

Power Washing (spring/summer ONLY)

Chimney Cap/Heat Stack Cap Installation

Chimney Collar/Pipe Collar

Drip Edge Installation

Switch out light bulbs

Skylight or Solar Panel Cleaning

Schedule a Gutter Cleaning


Get An Estimate


Visit our "About Us" page

Gutter Installation in Laurel, MD & Gutter Repair in Laurel, MD
Despite your best efforts, your gutters eventually will need repair or replacement. Whether it's a simple solder patch or a full-scale replacement, the experienced team at My Gutter Pro can help!
We always give you free estimates only for the work you need. Our gutter repair services include:
Re-pitching crooked gutters
Securing loose gutters
Sealing leaks
All our gutter repair and installation services come with a 2-year guarantee. We use only the best products and materials, so you get quality work every time.
Don't delay! Over-full gutters can lead to sagging, leaking, and rusting, meaning lasting, expensive damage to your home and roof! Schedule a cleaning with My Gutter Pro today!

Click Here for Gutter Installation


Click Here for Gutter Repair


My Gutter Pro
93 Monocacy Blvd. Unit A-6
Frederick, MD 21701
301-898-2880
Does your home in Laurel, MD have gutters?
If you answered yes, then you should be following us on Facebook to receive seasonal reminders, DIY tips, promo offers, FAQ's, contests and giveaways, and much much more!! Don't delay, join the My Gutter Pro Team today!


Follow My Gutter Pro on Facebook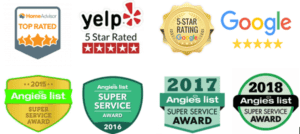 Local Resource Guide for Laurel, MD
https://en.wikipedia.org/wiki/Laurel,_Maryland
https://www.mapquest.com/us/maryland/laurel-md-282042051
http://www.city-data.com/city/Laurel-Maryland.html
https://www.niche.com/places-to-live/laurel-prince-georges-md/
http://www.usa.com/laurel-md.htm
https://www.tripadvisor.com/Tourism-g41224-Laurel_Maryland-Vacations.html